Ultimate Short Read 
We were over the moon this week to be recognised as a certified HubSpot Platinum Partner! We've been partners with HubSpot since 2016, and since then we've loved working closely with the whole HubSpot team.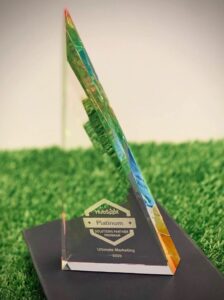 Our team at HubSot is delighted to have hit this milestone with HubSpot and have been recognised as a certified HubSpot Platinum Partner. At Ultimate, we're always striving to do better – to be the best, not the biggest. This accomplishment means a lot to us – and a lot to HubSpot too!
Reaching Platinum status with HubSpot means we've brought clients to the platform, as well as managing HubSpot clients ourselves on a monthly basis. This new Platinum status for Ultimate means that we're continually growing and improving our successes with offering, servicing and managing our clients' HubSpot accounts – using it to bring them the success that we've enjoyed ourselves.
Our own relationship with HubSpot began in 2016, when we started using the platform to change how we managed our own marketing. With such amazing results, we quickly recognised the huge benefits that we, along with HubSpot, could bring to our clients! Fast-forward to today and we've been using HubSpot to sell market-leading content, SEO campaigns, as well as fully-integrated inbound campaigns and eCRM systems. With HubSpot, we've been able to grow our clients' website traffic, drive their conversion rates and of course, transform their qualified sales leads into new wins for them – just some of the reasons we love the platform.
HubSpot plays a large part in our Welcome Forward campaign – you can find out a bit more about that here.
We are thrilled to have been recognised for this hard work, and to have helped so many clients to achieve their potential through HubSpot's unique functionalities and capabilities. This endorsement means a great deal to our agency, and we can't wait to reach the next one!