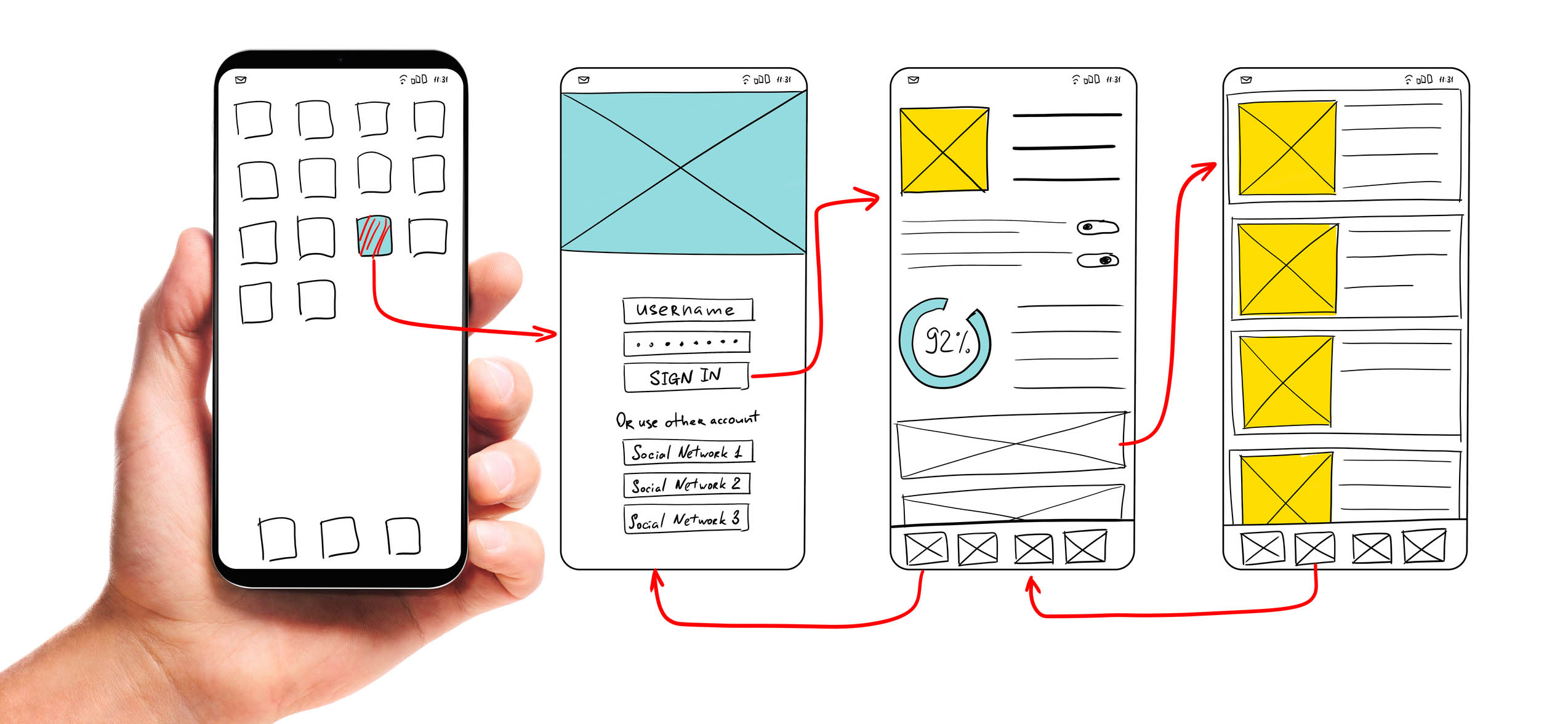 Let's start at the beginning – what does UX stand for? UX stands for User Experience. Just like it sounds, the 'User Experience' is the experience for the user of using a product, system or service: what it feels like, how easy it is, which gives a greater indication of how the process and journey are designed.
Okay, but what does it mean? When was the last time you used a product or service and thought 'Wow – that was so easy!' It's this effortless feeling that we're striving for when we consider UX. So, a UX designer's job is to create a product or service that provides the best possible experience. For instance, that perfect website you used last night to order a new coat wasn't just easy by accident – its designers have considered your path from 'A' to 'B' carefully, and kept it in mind the whole time they've added or removed aspects of the process.
This entire process of UX relies on user research and having empathy for your users. Putting yourself in the user's shoes defines this process: thinking about how they might use a site or process, as well as each of the elements which might make this process easier or indeed, unnecessarily difficult.
Why does UX matter? UX is becoming increasingly more important when designing, developing and marketing websites and apps. In today's world, people are busy with their everyday lives, and rarely have time to stop and consider each detail of websites and apps. That's why, here at Ultimate, we think that everything should be made clear, simple, and effective, to ensure the best possible user journey.
We emphasise with the user so we can understand how the user can do what they aim to do with ease, and with no problems. This naturally increases the probability of them returning to the website or using a product or an app again. We follow the process below in order to create long lasting, intuitive and effortless websites: each step is equally important and has many benefits for our clients.
Step by Step: The Ultimate Process
Understand
It's important that we take the time to get to know the clients who come to us for UX services. In order for us to empathise with their customers and users of their site, we need to understand their service or product, their business goals, their process requirements, as well as their technical limitations. We might ask our clients: 'What are your main business goals, and what is the main action you want the user to take?'
Discover
For this stage, we undertake competitor research and data analysis (this might include page views, clicks, Google analytics, heat maps, and so on and so forth.) This stage also includes user research, which may come from a variety of areas including customer feedback, interviews, surveys, and testing of the current site. The input from the users guides the manner in which the website journey is designed, and the user experience is created. At Ultimate, we want to understand the whole customer journey, and understand all the areas your customer interacts with the brand. We ask a series of questions to our clients, which might sound something like the following:
Who is your likely user, and what are they trying to do?
What other services do they use?What do they find problematic when using your website?What do users need from you, in order to achieve what they are trying to do effortlessly?
Define
The next stages we take is to outline and define precisely what the user needs and, almost by definition, what might be currently lacking from the website. We outline the problem, information architecture, the key user journeys, user which will most use the website.
Sketch The 'sketch' stage incorporates the user flows. These are of vital importance in the UX process: the journey that the user will take, which incorporates a brainstorm, ideas, and wireframes. These wireframes are a sketch of where all the key information will be going on the website, each page at a time. This is then tested before designing, and goes alongside a sitemap, where all the pages of a website are planned out. Based on all the findings from the research, we will begin to sketch out wireframes of the site before beginning to design the website.
Design
This stage revolves around the user interface. This is what the website or app will look like, including images and icons, to create the final layout. This must be both beautiful and functional, and is where the brand and UX come together cohesively!
Prototype
Onto the prototype stage, where we create a fully working design prototype. Here, we 'rehearse' the gestures, transitions and animations that will eventually go live, on this prototype or demo website. We can iron out any problems at this stage, which makes it all the more useful as a testing phase.
Validate
Here we undertake a usability test, and observe users navigating their way throughout the site. This, we do to both validate and corroborate our research as well as see how the interactions play out. We observe how users interact with the application, and try to ascertain the following things:
What is the user trying to achieve overall? What is the user trying to achieve at each step?
What is the user actually doing? E.g. How are they interacting with the website/app?Is anything preventing a smooth flow through the website/app?How does the user expect the website to work? Where is the design contradicting from what the user is expecting to see?
Analyse
We analyse the product that we have created. This we can do with UX testing, Google analytics, surveys, or an approach like A/B testing. A/B testing is where, to test the process upfront, we launch two versions of the navigation. One of these has one one process, another has a different process: when a user interacts with the website or app, we can track the UX and analyse whether the A test or the B test did better.
This is not a linear process, and it's important to be on a continuous journey to test that what we've achieved is correct. UX professionals are not fixated on the final version of the journey and process, but instead respect an evolving process which is continually rechecked and altered.
There are multiple advantages to following a UX process, and advantages to involving the user in the design process as much as this. If based on assumption, the user may be in for a length or unnatural journey through the application, which has failed to take into consideration the likely needs, wants, and restrictions or limitations of both the platform and the user. UX is a continuous journey, which is why the very latest in intuitive interface and technology may require updates and amends as time goes on. Clients on retainer see the benefit of UX processes, as their sites and apps are constantly tested and amended to guarantee user satisfaction and streamlined use. Involving the user from the beginning ensures that our clients can reach their target audience as quickly, easily and effortlessly as possible, as well as allowing them to interact precisely the way they expect. This ensures customer satisfaction is the highest it can possibly be, always.
We have undertaken this UX process for a number of our clients, to ensure their own client satisfaction and the functionality of their online platform. Most recently, Ultimate undertook this UX process for the Chester Zoo website – why not take a look for yourself?!