Designing Cities that work for women
This week, Sarah and I had the pleasure of representing the powerful women of Ultimate by attending an event over with our friends at Arup in their stunning London office. The sun shone for us on a glorious October day which was a nice change to the Manchester drizzle!
The event was organised by their Digital Women Network, and looked into designing cities for women. It was presented by Amanda Bailey (Global Skills Lead for User Experience at Arup) and co-hosted by Paul Coughlan (COO at Arup) with an aim to bring light to the challenges that women and other minorities face across our built environment. We were blown away by three presentations from inspiring women who work at Arup, detailing different projects that have been instrumental in challenging the way that Arup thinks about all aspects of their projects. The key theme for these talks was women's safety in their own spaces.
We were especially inspired to come away and read more around the subject of designing for women, and wanted to highlight the report "Travelling in a Woman's Shoes" by Arup and "The Invisible Woman" by Caroline Criado Perez as wonderful sources of information.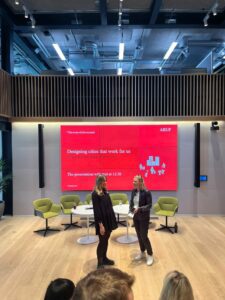 Similarities in our work
Although Arup works in a very different sector to ours, we could see where there was crossover in the digital disciplines such as user based research and designing for the people that would be using the space. The main point that resonated with me when it came to the research gathering for these studies, was that they realised the users themselves as women had unconscious bias towards male-centred spaces, purely because this is all they know. They had to change the way they spoke to the women that they were gathering data from and ask them to think in a different way. It reminded me of UX research we have undertaken and how the user will often tell you what they think they are doing or what they want, but when you observe their behaviour it is completely different.
The event finished with an interactive panel discussion with the speakers so that we could dig a little deeper and ask what they thought about the topics covered and provide any further insight into
Ultimate & Arup's Values
Ultimate and Arup share similar beliefs surrounding equality and sustainability, so it was important for us to make sure that we heard about the latest industry insights. Taking time out of the working day to speak to like-minded people and learn from thought-leaders in their space was refreshing and left us with ideas on how to push these beliefs through to our own projects. Read more about our company ethos here. 
Speaking to some of the attendees before we settled down for the talks, it was interesting to hear people's thoughts on the importance of focusing on equality, diversity & inclusion throughout all aspects of their work. It sounded like it's been a journey that they have been investing in for a while now, but there are some exciting challenges that we still have to work on for us to see the real changes across more of our spaces. The whole panel agreed that the next steps for action were to make sure changes are made in policies and guidance documents for all involved in designing cities that work for women.